I have no shame in admitting that I love to attend trade shows. After the free beers and bags (Yamaha always has the nicest bags FYI) finding little gems in the deepest corners of the conference is at the top of my list. Big announcements get plenty of coverage on the nofilmschools.com and newsshooter.com of the web. It's the little production tools that make life easier for less than the price of a new car I seek out. Enter the Listec teleprompters from Tiffen.
I'm Ron Burgundy?
I love my clients, but most of them are not exactly Ben Kingsley when it comes to delivering lines on camera. The best sales people can quickly freeze up when the lights and lens are focused on them. I've been looking for a teleprompter solution for the owner/operator and the Listec looks to be just that. Turning my iPad into a professional Teleprompter. The PromptWare PW-10 series is readable up to 15 Feet and has its own free software available for download in the AppStore. I'd like to hope a company like Tiffen would not skimp on the software development, but the reviews online are mixed. The mount fits iPad and other tablets from 6.2″ to 7.5mm and the lens opening is 4.9″ x 4.3″ (124.9mm-109.8mm). All kits include a wireless Bluetooth QWERTY keyboard remote with a claimed 40ft operational range.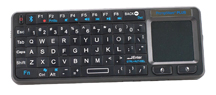 The Listec kit start at $679 and go up to $1,099. The more expensive kits include mounting hardware for ENG Broadcast Cameras, DSLR's Camcorders, and Matte Box setup. You also get s nifty hard carrying case. This appears to be a quality solution from a trusted company, but I'd like to get some real world testing in before dropping a grand. More info can be found on the Listec website.